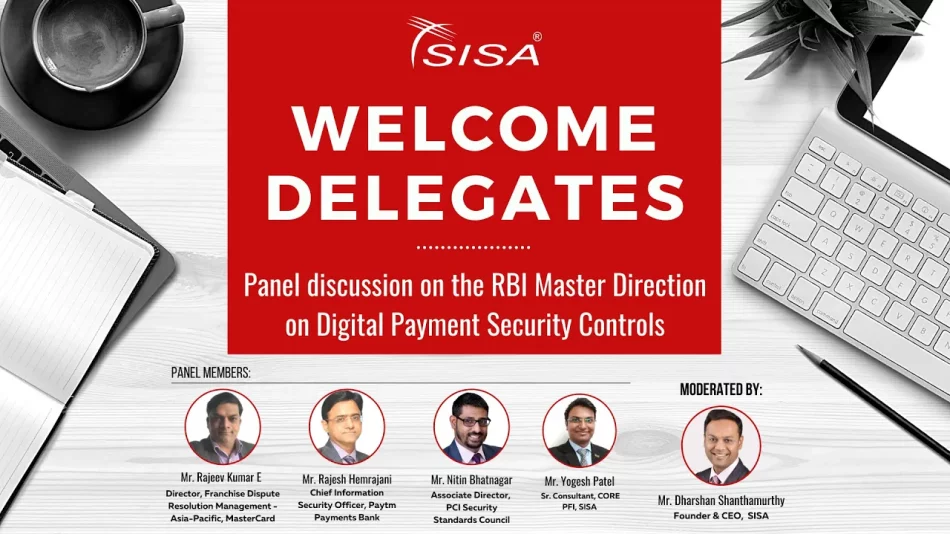 RBI's Master Direction on Digital Payment Security Controls – Panel Discussion
Reserve Bank of India recently published the Master Direction on Digital Payment Security Controls. It provides necessary guidelines for the Regulated Entities (Scheduled Commercial Banks, Small Finance Banks, Payment Banks, and Credit Card issuing NBFCs) to set up a robust governance structure and implement common minimum standards of security controls for digital payment products and services.
Listen to our esteemed panelists and understand the impact of the RBI's Master Direction on the payment industry. Our panelist includes 𝗠𝗿. 𝗩𝗶𝘀𝘄𝗮𝗻𝗮𝘁𝗵 𝗞𝗿𝗶𝘀𝗵𝗻𝗮𝗺𝘂𝗿𝘁𝗵𝘆, Chief Risk Officer at National Payments Corporation of India, 𝗠𝗿. 𝗥𝗮𝗷𝗲𝗲𝘃 𝗞𝘂𝗺𝗮𝗿 𝗘, Director, Franchise Dispute Resolution Management – Asia-Pacific at MasterCard, 𝗠𝗿. 𝗥𝗮𝗷𝗲𝘀𝗵 𝗛𝗲𝗺𝗿𝗮𝗷𝗮𝗻𝗶, Chief Information Security Officer at Paytm Payments Bank and 𝗠𝗿. 𝗡𝗶𝘁𝗶𝗻 𝗕𝗵𝗮𝘁𝗻𝗮𝗴𝗮𝗿, Associate Director at PCI Security Standards Council. The panel discussion will be moderated by 𝗠𝗿. 𝗗𝗵𝗮𝗿𝘀𝗵𝗮𝗻 𝗦𝗵𝗮𝗻𝘁𝗵𝗮𝗺𝘂𝗿𝘁𝗵𝘆, founder and CEO of SISA Information Security.
During the webinar, we discussed on:
Key Highlights of RBI's Master Direction

 

Experts opinions and important consideration

 

Addressing the questions on controls and implementation challenges

 
You can also download the whitepaper to understand and simplify the applicability of the guidelines and respective digital payment security controls in detail.