CPISI Workshop Webpage Banner Nov 2019
Web-banner-2
"Learn security for better data protection and compliance"
CPISI Hybrid – 

PCI 

Online 

Training
Evolving digital payment technologies needs to secure sensitive data with the latest security implementation guidelines in the course of payments evolution.
As PCI DSS is taking a considerable part in the development of payments ecosystem and consciously evolving to address threat vectors, continuous learning and being aware of maintaining PCI compliance will help professionals to effectively contribute to building a robust security environment for their organization.
SISA understands the countless benefits of imparting PCI DSS implementation knowledge. However, considering the limited classroom reach, SISA designed CPISI Hybrid, a comprehensive PCI Online Training program.
CPISI Hybrid combines learning and coaching with engaging videos from experienced PCI QSA and InfoSec trainer. The PCI online training is delivered by Mr. Dharshan Shanthamurthy, the first PCI QSA from Asia and a payment security specialist with over 20 years of industry experience.
CPISI Hybrid is a 30-day access self-paced PCI online training program that scales with the unique needs of the participants and helps to efficiently manage their organization's PCI DSS compliance procedures and risk-related activities. Participants can access and control the pace of the course from anywhere in the world.
The PCI online training will help you make an informed decision and implement PCI security controls effectively in your organization
CPISI Hybrid Course Coverage
Introduction to Payment Ecosystem
Compliance Validation, Requirements and Process
Compliance Overview
PCI Risk Assessment
Scoping Process and De-scoping tools and techniques including but not limited to point to point encryption and tokenization
Network Segmentation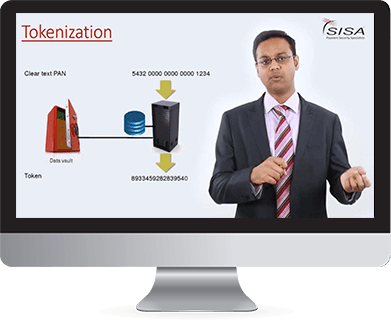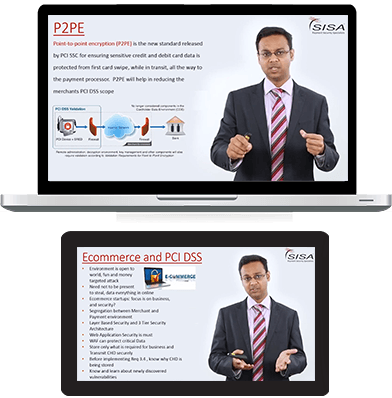 Implementation techniques and tools for protecting Cardholder Data
Secure Payment Application Development
Payment industry accepted access control practices
SIEM and Log Management
Payment security challenges on mobile and security best practices
Virtualization and Cloud and their impact on Payment Security
One-on-One session with the trainer for Q&As
CPISI Certification Online Examination (One hour)
Trainers to Interact with:
Prajwal Ramakrishne Gowda - Sr. Consultant

Prajwal is Senior Consultant and RAC Lead for Asia-Pacific and South-SAARC region at SISA.

He has been involved in Payment Card Industry and Payment Application Data Security Standard, ISO 27001 Controls Gap Analysis, ISMS & Risk Analysis & Management Practices like OCTAVE and ISO 27005, Information Security Audit and Network Security.
Kaushik Pandey - Principal Consultant

Kaushik Pandey is one of the Lead Authorized Trainer for SISA's CPISI workshop.

Kaushik is leads the Risk and Compliance team for Americas, Europe, Middle East and SAARC and has completed several information system assessments and audits and helped leading banks, third party processors, IT, BPOs, airlines, and payment gateways to successfully implement the PCI Compliance Standard.
Nandan Yadav - Risk and Compliance Consultant

Nandan is a PCI QSA leading the Delhi-NCR region.

He has provided consultations, audited and certified leading e-commerce, IT, BPOs, payment gateway, service providers, etc. on PCI DSS Compliance.

He has also successfully implemented PCI Compliance programs through CPISI workshops.
A broad coverage and understanding of various standards published by PCI SSC
Learn how to implement PCI DSS security controls effectively for a successful PCI DSS compliance
Resource effective PCI DSS implementation
Overview on new standards like 3DS and PCI PIN
Information security professionals, security analysts and higher management from the following industries:
Payment Gateways and Service Providers
Banking
eCommerce & mCommerce merchants and retailers
IT & ITES
CPISI Hybrid is designed by payment security specialists to address pain points in effective PCI implementation
A comprehensive course including the essence of SISA's PFI breach investigations
A 30-day course with easy to understand course material and interaction with payment security specialists and expert trainers
Workshop Participants Testimonial