GDPR Compliance Services
Seamlessly comply to General Data Protection Regulation (GDPR) with SISA's security and compliance service solutions mapped against key areas of GDPR compliance.
Leverage SISA's in-house developed solutions in risk assessment, data discovery, data governance, and security to simplify your journey to GDPR compliance.
Aligning with the GDPR compliance mission
The GDPR's primary aim is to enhance individuals control and rights over their personal data and to simplify the regulatory environment for international business. It also addresses the security of personal data transferred outside the EU and EEA areas.
Our GDPR compliance services are tailored to your specific needs around the required documentation for auditors and responses to assessments. With our comprehensive GDPR compliance services, you will secure sensitive customer and business data while building a reputable security program to show your dedication to data privacy and security.
GDPR Compliance Applicability
| | |
| --- | --- |
| All the Organizations who are either a controller or a processor established in the EU, regardless of whether the processing takes place within the EU. | All the Organizations who are either a controller or a processor even though not established in the EU but offering goods or services within the EU or to EU individuals. |
Eligibility for GDPR Scoping
The GDPR applies to all personal data collected in the EU, regardless of where it is processed. Any database or media containing personal or sensitive data collected within the EU will be in scope. Any organization possesses such data, regardless of business size or sector, will have to comply with the GDPR.The GDPR applies to the processing of personal data by businesses "established" within the EU. It also applies to businesses outside the EU that offer goods or services to individuals in the EU or monitor such individuals' behavior (profiling).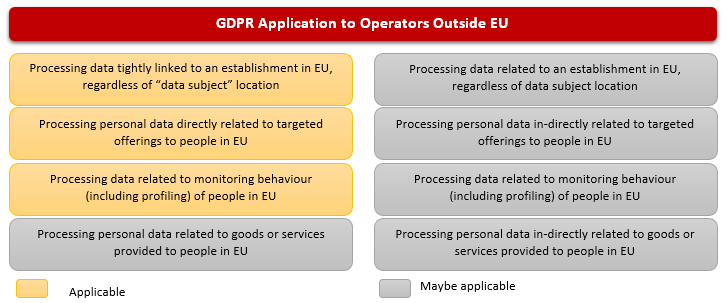 SISA's 3 Phase Approach to GDPR Compliance
Phase 1:
Scoping
Gap- Assessment
Privacy Impact Assessment
Phase 2:
Remediation Support
Consultation
Phase 3:
Final Audit
Your Partner for GDPR Compliance Services
From building a GDPR compliance program to implementing security controls and processes to demonstrating and maintaining GDPR compliance, we can partner with you to for all your GDPR needs for apps, websites, and organization. As a partner for GDPR compliance, SISA can help you with a pragmatic and risk-based approach to achieving compliance with GDPR.