Data Security during Work from Home with Managed Detection and Response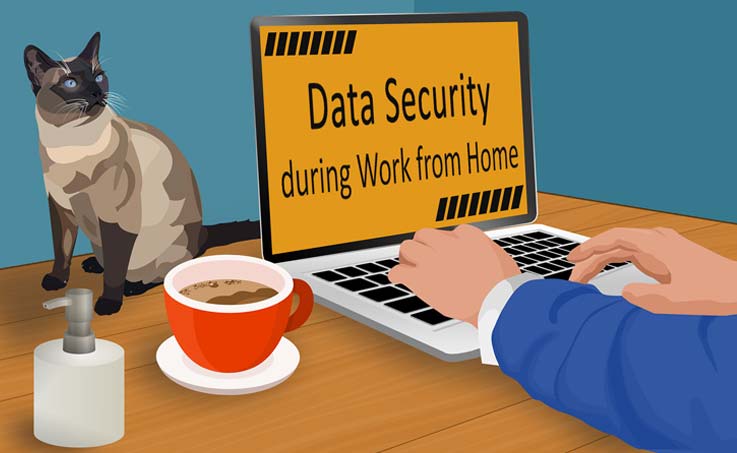 Amid the outbreak of COVID-19 pandemic (novel coronavirus), global organizations took the regime of remote working to ensure Business-As-Usual (BAU). Many organizations enabled their employees to access business-critical data outside secured networks as per CIA triad (Confidentiality, Integrity, and Availability of sensitive information).
When tons of sensitive information gets transferred across untrusted networks, and personal devices of employees, data security often goes for a toss. Cybercriminals are exploiting uncertainty of the pandemic by targeting remote working employees.
Since the end of January 2020, there has been a sharp spike in phishing attacks worldwide. We found that spam emails accounted for 67.5%, followed by malware (27%) and malicious URLs (7.5%). An analysis says that there have been 199,379 spam emails registered in the last couple of months and 81,315 infected files detected.
The persistent increase in cyberattacks on organizations globally, obliged us to share how a Managed Detection and Response (MDR) solution can help ensure data security and business continuity.
The Role of Managed Detection and Response (MDR) in Data Security:
Cyberattacks have become inevitable today. Besides, the uncertain times are like a piece of bacon for attackers as most people are working from home without proper deployment and configuration of remote services.
Recently threat actors compromised two major organizations, one being a technology services giant and another, a pioneer in the educational sector.
Cognizant, one of the largest technology services giant, faced a "Maze Ransomware" attack that disrupted its client data. Maze Ransomware infects networks and encrypts files on the devices to demand a ransom in exchange for the recovery of those files.
Unacademy, an online learning platform is hacked, and the details of 22 million users, available for sale. According to Cyble Inc., the hacker is offering a database of 21,909,707 records for $2000. Right now, the company's value is more than $500 million. The compromised data included usernames, hashed passwords, emails, account profiles, and the status of respective accounts.
With an increase in the sophistication and volume of cyberattacks across the globe, organizations must be a step ahead in early incident detection and prevention with intelligent MDR solutions.
MDR is a comprehensive cybersecurity incident prevention, detection, and response package that monitors environments, proactively responds to incidents, and keeps incidents from turning into potential exploitations. MDR solutions augment the security posture of organizations with advanced analytics and pre-emptive incident detection capabilities.
Many coveted data security standards like PCI DSS speak about implementing robust log monitoring systems to secure endpoints from intrusion.
Seven most Important Works an MDR does for an Organization:
A Managed Detection and Response solution is a robust aid to fight against unanticipated cyber threats. Embedding an MDR solution in the security architecture helps in the proactive detection of malicious traffic and prevents potential data outbreaks.
An MDR solution helps in analyzing alerts, event logs, and queries, extracted from an MDR implemented application with a correlation engine. When a suspicious activity is detected, the MDR solution sends signals to IT security teams with necessary ticket details.
Below are the seven most essential works a Managed Detection and Response solution does for an organization:
a) Security Research: Helps in maintaining a threat intelligence database that contains details about malicious URLs, emails, domains, etc. associated with the latest threat vectors.
b) Security Operations: Analyses network logs, day and night to identify suspicious activity.
c) Security Engineering: Helps in building robust security design systems to protect business-critical data from untimely disruptions.
d) Forensics Background: Secures an organization from future breaches by analyzing and understanding the pattern of attacks.
e) Security Analysis and Data Science: Leverages the coordination of technology and human intelligence to identify vulnerabilities and enhance the current security posture.
f) Threat Hunting: Determines known and unknown threats and vulnerabilities inside the security layers with Machine Learning and Artificial Intelligence.
g) Incident Response: Enables a rapid containment of incidents with a well-structured incident response plan.
Tips to Uphold Data Security during COVID-19 Pandemic:
Sensitive data exploitation is the ultimate goal of cyber attackers. The only solution to avoid ending as a data breach victim is to stay aware of security posture, endpoint protection, and security controls to mitigate gaps.
Below are a few security best practices that come handy to guard internal networks of organizations.
1. Regularly monitor email traffic and stay vigilant about emails from untrusted and suspicious sources.
2. Roll out revised data security educational resources to employees and spread awareness on how remote working can be challenging.
3. Incorporate VPNs and secure email gateway solutions to block executables, spam from reaching endpoints.
4. Implement a crisis response and incident response plan to all remote workforce employees.
5. Conduct Risk Assessment and Penetration Testing to identify vulnerabilities on remote working devices and close them on an urgent basis.