Certified Payment Industry Security Implementer (CPISI)
10 September – 11 September 2020
Vietnam, Myanmar, Thailand & Cambodia (E-Workshop)
Description
In the year 2014 around 800 million card data records have been reported to be stolen. Financial institutions, merchants, service providers have been targets of massive data compromises. Considering the recent card breaches that have occurred in our industry, you would appreciate that organization is required to pay greater emphasis to "EFFECTIVE IMPLEMENTATION of PCI requirements".
Benefits:
It's a hands-on 2 days' workshop aimed primarily at enabling participants to get hands on knowledge on how to implement PCI Standards effectively in your organization.
You will gain a clear understanding of the various requirements of the Payment Card Industry Standards, and learn the intent behind each of its requirements. The workshop is intended to provide practical solutions that have been used to adhere to the PCI requirements in a cost effective and sustainable manner.
If your organization is already PCI compliant, this PCI implementation workshop will help you learn how to maintain your PCI compliant status effectively and minimize the possibility of card breach and resulting in a secure PCI environment.
Certified Payment Card Industry Security Implementer (CPISI) is a certification that will be provided by SISA Information Security for participants who pass the exam at the end of the workshop. This program has been running since 2008 and there are over 5,000 certified CPISI professionals across 30 countries.
Audience:
Implementation team of the PCI DSS project – Team members from Networking, Application Development, Project Management, Information Security, Risk, IT Infrastructure, Compliance, Business, etc.
Note: Certified Payment Card Industry Security Implementer (CPISI) is an independent payments industry certification offered by SISA (http://sisainfosec.com/) for payment security professionals, relating to the Payment Card Industry Data Security Standard (PCI DSS). The PCI DSS is managed and developed by the PCI Security Standards Council (PCI SSC), which provides its own PCI DSS training and certification programs. SISA is not affiliated with or endorsed by PCI SSC. For more information about PCI SSC and the PCI DSS see https://www.pcisecuritystandards.org.
Agenda
Day 1
Introduction to Payment Ecosystem
Compliance Validation, Requirements and Process
Compliance Overview
PCI Risk Assessment
Scoping Process and De-scoping tools and techniques including but not limited to point to point encryption and tokenization
Network Segmentation
Day 2
Implementation techniques and tools for protecting Cardholder Data
Secure Payment Application Development
Payment industry accepted access control practices
SIEM and Log Management
Payment security challenges on mobile and security best practices
Virtualization and Cloud and their impact on Payment Security
Training Mode: Interactive, workshop style with case studies
CPISI Certification Online Examination (One-hour)
Participant Speak
"A must course in this technology world, where security is a great concern."
"Trainers are SME's, competent and knowledgeable enough to understand, respond and clarify participants queries."
"My second CPISI and this was the best"
"Very useful information and relevant to today's risks"
"Trainers stress on participation by candidates made the session lively and enjoyable."
"The training was very useful to understand the payment card industry standard."
"The trainer was very knowledgeable and the workshop helped us to gain knowledge necessary for both personal and business development."
"It was a great experience. The trainer is very knowledgeable and enthusiastic. I am glad I attended this."
Prajwal Ramakrishne Gowda
Senior Consultant (RAC Lead – APAC) and CPISI Authorised Trainer
PCI Qualified Security Assessor (PCI QSA), ISO 27001 LA, CPISI-S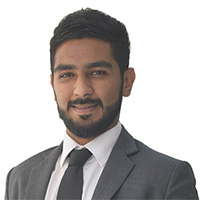 Prajwal Gowda is a Senior Consultant and RAC Lead for the Asia Pacific and South SAARC region at SISA. He has been involved in Payment Card Industry and Payment Application Data Security Standard, ISO 27001 Controls Gap Analysis, ISMS & Risk Analysis & Management Practices like OCTAVE and ISO 27005, Information Security Audit and Network Security.
Prajwal has handled multiple information system compliance projects for payment brands, payment gateways, third-party processors, ATM service providers, IT & ITES companies, e-Commerce merchants, Telecom and BPOs and supported to successfully implement the PCI Compliance Standard.