SOC Compliance
SOC (Service Organization Control) is designed specifically to build trust and confidence in the service and products offered by the organizations to other service provider organizations. SOC reports are based on Statement on Standards for Attestation Engagements 18 (SSAE-18, formerly known as SSAE-16), a set of auditing standards developed by the American Institute of Certified Public Accountants (AICPA).
Through SOC reports, the organization can reduce compliance costs while proactively addressing risks across the organization to increase trust and transparency to internal and external stakeholders. However, there are three different types of SOC reports available according to the organization's requirements.
Types of attestation SISA offers
SOC 1 – SOC 1 control is intended for companies that carry out controls on the financial statements. Its purpose is to evaluate the effectiveness of a cloud service provider's internal controls affecting the financial relationships of a customer using the provider's cloud services. The Statement on Standards for Attestation Engagements (SSAE 18) and the International Standards for Assurance Engagements No. 3402 (ISAE 3402) are the control execution standards and the basis of the SOC 1 report.
Further, SOC 1 report is differentiated into two types Type 1 and Type 2.
| | | |
| --- | --- | --- |
| | Type 1 | Type 2 |
| SOC 1 | It focuses on a specific date and describes the procedures and controls that a service organization uses including the control systems test to determine if it's been designed correctly. | It goes a step ahead and provides the service organization with an opportunity to report on its controls' operating effectiveness over a period of time i.e. six months, in addition to the controls' design. |
SOC 2 – A SOC 2 report attests to the effectiveness and controls according to the AICPA rules that an organization has ingrained to securely manage data and protect customer's information. SOC 2 reports aims to meet the different needs of users to understand the internal control of a service organization concerning the specific criteria of security, availability, processing integrity, confidentiality, and privacy.
| | | |
| --- | --- | --- |
| | Type 1 | Type 2 |
| SOC 2 | It delivers a detailed report on the suitability of the design controls to a service organization's system. Especially, SOC 2 Type 1 report is helpful to service companies as it assures the potential customers that the service organization has passed the said auditing procedure on the specified date and their data is safe with them. | This report provides a higher level of assurance than SOC 2 Type 1. The SOC 2 Type 2 reports describe the evidence of control measures taken and are evaluated for a minimum of six months to see if the systems and control are in place functioning, as reported by the management of the service organization. |
SOC3 – The SOC 3 report provides a summary of the SOC 2 report, based on the results of a SOC 2 Type 2 assessment. In particular, it complies with the SSAE 18 standard, with sections AT-C 105 and 205.
Why SOC compliance is required?
In recent years, security has become a critical aspect for businesses. Whether you store your data in an internal data center or with an external vendor, cyber attacks have become a pressing problem and a real threat to organizations. Also, organizations today are increasingly outsourcing business requirements to a third-party service provider to focus more on core competencies while reducing costs and deploying new application functionality to the business. While this, has helped organizations to reduce costs, but it has doubled the responsibility to keep their customer's data secure.
Thus, a SOC report can convey security and reliability to customers, who previously spent a lot of time evaluating supplier data practices to ensure they were up to date or not. SOC Audit report can be used to quickly understand how the vendor operates and reduce the burden on the customer's security operations group.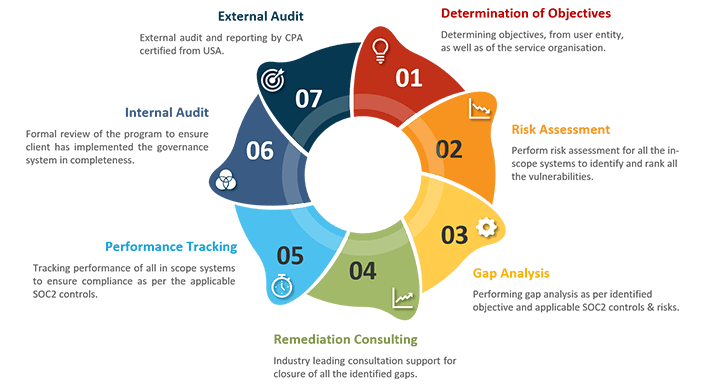 Determination of Objectives
Depending on the reason for the SOC audit report, the firm needs to understand the objective behind the auditing. It includes some inquiries considering any legal, contractual, or other regulatory obligations that may help to identify what the report is intended for.
Risk Assessment
By performing a risk assessment, the auditor identifies the exact areas where the vulnerability risk is high and what measures should be implemented to control the upcoming threats.
Perform Gap Analysis
Gap analysis helps in verifying which existing policies, procedures of business are already documented and in place. It provides the organization the opportunity to protect the business and implement controls against those gaps.
Remediation Consulting
After the gap analysis phase, the first remediation period begins. In this phase, the auditor will help you to close all the identified gaps with dedicated resources. The service auditor will provide valuable, ongoing knowledge sharing with process and control owners throughout the remediation phase.
Performance Tracking
This phase involves a large quantity of documentation. Here, the documents such as policies and procedures are mapped with the control environment to ensure compliance as per the SOC requirements.
Internal Audit
Internal audit is a kind of review program that gives the organization an independent perspective and enables them to be ready for final attestation. At this stage, the client ensures he has implemented the governance system to get the SOC attestation.
External Audit
The AICPA stipulates that only a Certified Public Accountant (CPA) is qualified to perform the external auditing report. The organization can achieve SOC 2 – Type 1 attestation at first and after completion 6 months, the client can achieve Type 2 attestation. The Type 2 report says that all risks are under control and will give adequate assurance to the user entity.
How SISA can help you to get SOC Compliance reports?
As an industry leader in cyber security firm, SISA can help you understand your objectives, identifying gaps and threats, and can support you to remediate the gaps and risks in order to achieve a SOC Compliance report. With over a decade of experience in the financial and cyber security space, SISA acts as a trusted partner to over 2000 customers in 40+ countries to secure their network and technology infrastructure.
SISA has worked to provide cutting-edge compliance services to diverse industries and domains which include banks, ITES, insurance, e-commerce, payment service providers, telecommunications, airlines, and retail companies.